Redbriar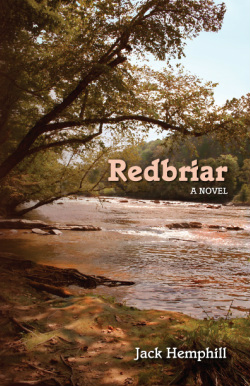 Redbriar, by Jack Hemphill

CHAPTER 1
Tad

I was only fourteen when I was taken away from my Dad. It was impossible for me to get over losing both my parents at the same time. What does a fourteen year old know about anything? I knew how much Dad wanted to see me, but I was afraid. There are some things that just can't be forgiven.

My name is Kathleen Remington Burns. Kathleen was Mom's grandmother's name, but nobody ever knew me by any name other than the one Dad gave me - Tad. Believe it or not, Tad was short for Tadpole. Yes, Tadpole, the baby frog thing. I loved it when I was kid, but when I grew up, I couldn't get rid of it and I never told anyone where the name came from.

My childhood ended early. I can tell you the exact time and place when it happened. It came with a single word – "guilty." I saw Dad's face as he stood alone in front of the judge. For that one moment, he seemed like he was the child and I the adult. No one before or after the trial, questioned me about what I knew, and I promised myself never to tell. In spite of the verdict, in spite of the storm caused by the trial, Dad's cadre of attorneys managed to get him set free.

I was sent to live with my grandma, but when she died, I ran away. My cousins let me stay with them on the other side of the river as long as I wanted. They never told anyone I was there.

All my cousins in that little cabin were boys. Some of them thought they were men, but they were more like a pack of puppies escaped from the kennels. I did my part around there, but much of the time I just sketched or looked out the window toward the river.

I never had a brother and the truth is, before I moved in, I wasn't really all that close to my cousins. I never knew what guys were like. I knew nothing about their inexhaustible energy, their insatiable appetite for anything solid or liquid – anything the stomach would hold down. I didn't understand their unrelenting competitions over everything from who would get the soft chair by the TV to who could piss the farthest off the back porch. My conclusion then, and I still half believe it, was that boys, as well as men, are funny, fascinating, lovable, inexplicable pigs, or – in the case of my cousins – piglets. But, they were good to me and took care of me.

They liked to laugh more than talk and, except for Silas, they had no use for serious discussions. Silas was the only one in the family who served in the military and had recently returned from active duty in Vietnam.

I loved living in the woods – especially in winter with its white blanket shrouding us. Every morning I looked out my window for fresh tracks left in the night by critters that crept by our little cabin. Some of them traveled in pairs or in small groups – especially deer. Sometimes, I followed the tracks until they disappeared into the stream or over the hill. I always wondered where the animals hid during the day, but I never followed them beyond my cousin's property. That's as far as I ever went except when I walked up the long gravel drive to get their mail. Even then, I was careful not to let anyone see me. But, I knew sooner or later Dad would find me.


---